Approved by parents
Skip to product information
Sphero Star Wars BB-9E - OEM Refurbished - Unopened - Discontinued App Support
Regular Price

$116.14 USD
Sale price
$100.99 USD
Regular price
Sale price
$100.99 USD
Unit price
per
Sale
Sold out
Competitive Pricing
Great Customer Services
Largest Selection Of Toys
Product Description
/* TEMPLATE 1 */
.TEMPLATE {
font-family: 'Playfair Display', Times New Roman, Georgia, sans-serif;
font-variant: normal;
font-style: normal;
}
.TEMPLATE h1 {
margin-top: 0;
font-size: 25px;
}
.TEMPLATE h2 {
margin-top: 0;
font-size: 18px;
}
.TEMPLATE h3 {
margin-top: 0;
font-size: 16px;
}
.TEMPLATE p {
margin-top: 0;
font-size: 14px;
}
.TEMPLATE .images {
padding: 10px 10px;
}
.TEMPLATE .store_desc {
text-align: center;
margin-left: 30px;
margin-right: 30px;
}
.TEMPLATE .third {
display: inline-block;
padding: 10px 1.5% 10px;
margin: 20px 0 20px;
text-align: center;
vertical-align: top;
}
.TEMPLATE .col_right {
margin-left: 400px;
min-height: 420px;
min-width: 400px;
padding-left:40px;
}
.TEMPLATE .images img {
max-height: 550px;
max-width: 100%;
text-align: center;
margin: 0 auto;
margin-bottom: 20px;
display: block;
}
ul {
padding-left: 30px;
font-size: 14px;
}
hr {
margin: 0;
padding: 0;
background-color: #000;
line-height: 2px;
}
#variant_specifics {
padding: 8px 4px 4px 4px;
border-radius: 4px;
}
#variant_specifics ul {
list-style-type: none;
padding-left:2px;
margin-bottom: 4px;
}
@media (max-width: 767px) {
#variant_specifics p, #product_details p, #feature_bullets p, .store_desc p, p {
font-size: 14px !important;
margin-bottom: 0px;
}
.TEMPLATE .third {
margin: 0px 0px 0px 0px;
}
}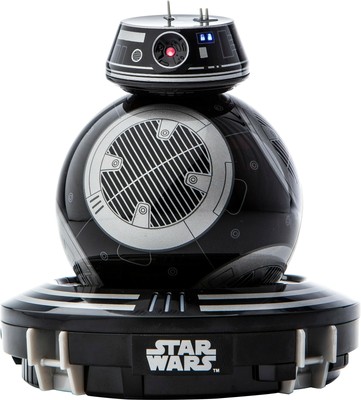 Sphero Star Wars BB-9E - NOTE Sphero Discontinued App Support as of October 1st 2021. 
---
Product Overview - See images item in original refurbished packaging as shown. Sealed and unopened NEW CONDITION!  APP SUPPORT DISCONTINUED BY SPHERO, you cannot find the app in the app store unless you have already downloaded it.  Since support has been discontinued the app may not work with new software updates on your device.
Style:BB - 9E There's a new disturbance in theForce. BB-9E is a menacing astromech droid of the First Order. Control your BB-9E App-Enabled Droid with your smart device or watch it patrol on its own. BB-9E houses sophisticated tech, allowing itto roll and move his dome just like on-screen, and its strong exterior allows the First Order droidto weather any battle. This vigilant and intimidating droid is always on high alert. BB-9E specializes in keeping starships and machinery fully operational with its many features. Keep BB-9E sharp with the augmented reality Droid Trainer and explore holographic simulations from the Star Wars Galaxy. Watch BB-9E interact with other Star WarsApp-Enabled Droids by Sphero, and view films fromthe Star Wars saga with BB-9E reacting by your side. This is NOT the droid you're looking for… it's the droid that's looking for you Features Authentic Movement // Whether you're driving or onPatrol, BB-9E rolls just like on-screen. Holographic Simulation // Explore the Star Wars galaxy with the app and the Droid Trainer. Droid-to-Droid Experience // Watch BB-9E interact with other Star Wars App- enabled Droids by Sphero. Watch With Me // View films from the Star Wars saga withBB-9E by your side. Signature LEDs // BB-9E's dome is equipped with vibrant LED lights
Features



Authentic movement - whether youre driving or on Patrol, bb-9e rolls just like on-screen.



Holographic simulation - explore the star Wars galaxy with the app and the Droid trainer.



Code BB-9E - Download the Sphero Edu app and use character-specific commands to program BB-9E and complete STEM activities.



Watch With Me - View films from the Star Wars saga with BB-9E by your side.



Details



Product Dimensions: 4 x 4 x 4 inches



Item Weight: 1 pounds



Shipping Weight: 2.2 pounds



---
Quality Products
We work hard to only source from trusted and reliable suppliers. This means all of the products we sell are exactly as described, authentic, and 100% guaranteed as described. Shop with peace of mind!
Fast and Free Shipping
You're already purchasing the item. Why pay additional for shipping, especially slow shipping? We get your order shipped out and delivered to your doorstep as quickly as possible.
Commitment
We are committed to making sure that you leave this transaction satisfied. That means we will make sure every transaction is smooth and work with you quickly to iron out any rare issues or concerns that might arise.